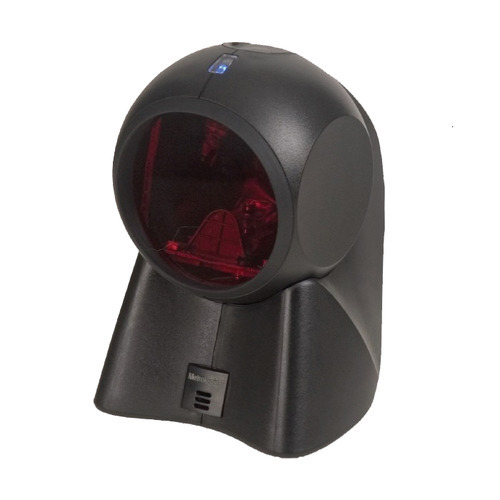 Honeywell's Orbit 7120 omnidirectional scanner—the all-time, best-selling hands-free omnidirectional laser scanner—is an innovative, elegant and affordable solution for convenience retail applications where counter space is at a premium. Recipient of multiple design honors, the Orbit omnidirectional scanner has an award-winning shape that enables hand-held scanning of large, bulky items. This laser scanner offers an omnidirectional pattern scan line which provides aggressive presentation scanning. The scanner also has an adjustable head to target scanning for larger products.
Adjustable Scan Head
Tilt the scanner up to 30 degrees for targeted scanning or larger products.
Aggressive Scan Performance
With a 20 scan line omnidirectional pattern, Orbit scanners provides snappy scanning performance – a nice productivity booster in hand presentation applications.
Sweet Spot Scanning
Engineered "sweet spot" optimizes scan performance and first-pass read rates.
Automatic Scanning Operation
Simply present a barcode to Orbit and the unit scans in a single pass.
Built-In RF EAS Antenna
(Orbit 7180 and OrbitCG 7180 only) Increases efficiency by simultaneously deactivating RF EAS tags and decoding barcodes.
Accuracy
Improve reading accuracy with a single click by activating the single-line mode (OrbitCG 7180 only).
Product Specification
| | |
| --- | --- |
| Dimensions (LxWxH) | 105 mm x 102 mm x 150 mm (4.1 in x 4.0 in x 5.9 in) |
| Weight | 400 g (14.1 oz) |
| Input Voltage | 5 VDC ± 0.25 V |
| Operating Power | 900 mW (180 mA @ 5 V) |
| Standby Power | 850 mW (170mA @ 5 V) |
| Host System Interfaces | USB, RS232, Keyboard Wedge, IBM 468xx (RS485) |
| Drop | Designed to withstand 1.2 m (4 ft) drops |
| Scan Pattern | Omnidirectional: 5 fields of 4 parallel lines; button activated single line (7180) |
| Scan Speed | Omnidirectional: 1120 scan lines per second; single line: 56 scan lines per second (7180) |
| Print Contrast | 35% minimum reflectance difference |
| Decode Capability | Reads standard 1D and GS1 DataBar symbologies |